Summary – Are you stuck with a problem of repair OST files? And don't know why Outlook users have this problem. How is it resolved? And also are you worried about OST files and their attachments? When all of the above come to your mind. So you have landed in the right article. This article will give you all the answers about your OST file problem.
Table of Contents

1. What is an OST file?
2. Reasons for damaged OST files
3. Available methods to repair OST file
4. Limitation of the free method
5. Quick Solution to repair OST files.
6. Benefits of using DataHelp Tool
7. Final Verdict
OST
OST stands for offline storage table. OST file is provided by Microsoft Outlook. The OST file format is used to save email, contacts, calendar, pictures and other attachments in offline mode. The main advantage of the OST file is that it allows users to open and access their emails and attachments without an internet connection. Another thing is that you don't have to do a lot each time to save the file in offline mode. If you use Outlook with an Internet connection, all emails and their attachments are automatically saved in your system. This is a great way to save your internet data.
Reasons Behind Corrupted OST files
OST files are corrupted due to the below mentioned reasons. Just go through the reasons given below so as not to repeat the error again to meet this problem.
1. Problem related to hardware damage
2. The sudden power failure causes the corrupted OST files problem
3. Poor internet connection, cables and other connection devices damage your OST files
4. Failure to Add-in Microsoft Outlook can lead to corrupted OST files
5. Large files can also damage OST files
6. Corrupt OST file due to the presence of viruses / bugs
7. Improperly closing the Outlook application.
Available methods to repair the OST file
There are two methods available to repair the OST file.
1. Free method
2. Quick solution to repair OST file
Steps of Manual Method to Recover OST File
1. Run Scanpst.exe if there is Outlook data
2. Select the damaged file using the Browse option
3. Click here to repair the damaged OST file
4. When the scanning is finished, click the Repair button.

5. After repairing the show pop up boxes
Limitation of Manual Methods to Repair OST Files
1. Manual method can only fix minor problems, not major problems
2. There is a 0% guarantee on data security
3. Not compatible with Microsoft Outlook 2010 and the below versions.
4. The file size of 2 GB cannot be repair with inbuild tool
5. You will need to run the Inbox inbuilt tool multiple times to repair each OST file.
Quick Solution to Repair OST File:
You have seen that the manual method has many drawbacks. We know your OST file, along with its attachment, is so important to you. And you don't want that data to be lost and the file. I understand your concern, so I recommend that you choose the DataHelp OST repair tool to fix your file. When you repair your OST file using these tools, your data will never be lost, not even your data hierarchy and file order.
With the following simple steps, you can repair OST files without worrying about any things
Step 1: Download and install the DataHelp OST recovery software.
Step 2: Click the Add File option and  then select file.
(Note- Here you can also click on Search File, then the software will search the file from the computer drive.)

Step 3: Choose the quick scan mode to recover the OST file
(Note – If the OST file is badly damaged, then choose the Advanced Mode option)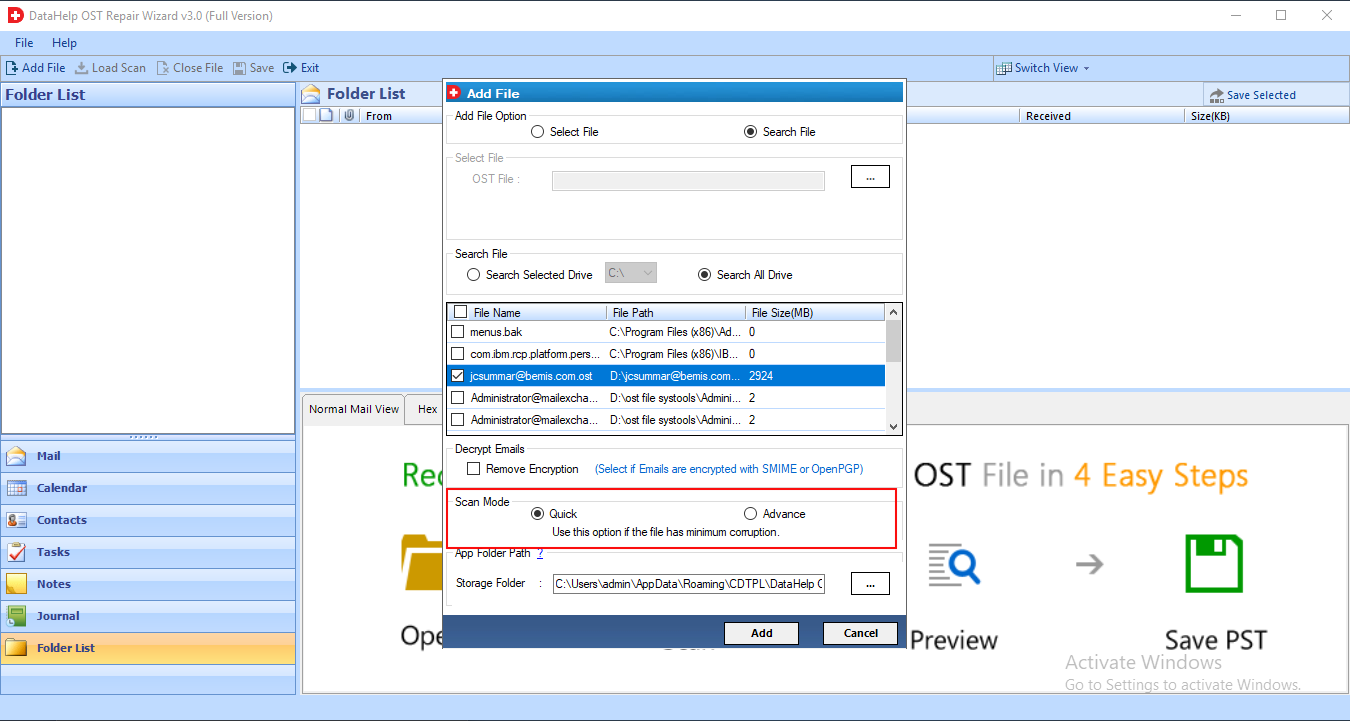 Step 4: Press OK. Now your damaged file is saved in error-free mode.
Benefits of Using The DataHelp Tool
It provides a user interface help environment to work with with ease
It is compatible with all versions of Outlook and Windows OS
It recovers OST files along with email, calendar, contacts, etc.
There is no size limit for repairing damaged OST files
It offers an advanced scanning mode to repair extremely damaged files.
It has converted your OST files to the healthy format.
Final Verdict
In this blog, I have discussed some possible solutions to repair OST files in Outlook 2019/2016/2013/2010/2007 and 2003. I have explained a free and expert solution to fix OST files in Outlook. Just follow the mentioned steps to get the OST file back. It is very clear from this article that DataHelp OST repair tool is the best to repair damaged OST files. I mentioned reasons behind corrupted OST files. Hope after reading this blog, you can now solve the problem with ease.