Summary- Are you looking for ways to import OLM file to Windows Outlook? If you're Answer is yes. In this article, we are going to show manual and automated method of export OLM to PST Outlook. As well as we will also suggested you a best and without any data loss OLM to PST converter tool. Read complete article to get latest and useful information.
In 2021, many people will be using Microsoft Outlook as their primary email client and using it for personal and professional purposes. Microsoft offers an Outlook application for Mac and Windows. However, some functions are common in both Mac and Windows, and some of the functions are not commons. This is where the problem occurs when Mac users cannot see their Outlook email, contacts, calendar, etc. in Outlook on Window application.
Users who want to view their Outlook Mac message in the Outlook Window operating system. Whenever they try to open Mac Outlook email in Windows Outlook without convert OLM to PST file format. User get this kind of error.
[The file \FileName.OLM is not an Outlook data file (.PST)
To access Mac Outlook email in Windows Outlook, the user needs to convert Mac email from OLM file format to PST file format. Because Mac Outlook stores email in OLM file format while Windows supports PST and OST file format for storing email.
If you also want to import OLM file to Windows Outlook PST file format. But don't know how to import it. Now we will show you the method to export Outlook OLM to PST.
Method of Import OLM File to Windows Outlook
There are two methods to view and access Mac Outlook email in Windows Outlook
1: Manual method
2: Automated method
Method 1: Manual Method to Import OLM file to Windows Outlook via Gmail
This manual method is tedious and complex. With this method, the emails and their attachments may be lost during the conversion. Once converted, there is no guarantee that the user will receive the original format. Now it all depends on the user, having known many disadvantages of the manual method. If user still want to choose a manual method to export OLM to PST. Just follow the steps below.
Manual Steps Divided Into 3 Phases
Phase 1: Steps of the Phase 1 process
Step 1: Open the Gmail account and go to the Settings option
Step 2: Click Forward and POP / IMAP in the menu bar
Step 3: Activate the IMAP radio button under IMAP Access
Phase 2:
Step 1: Open Outlook on Mac
Step 2: Click on the " about the Outlook" option in the menu bar and select "preferences".

Step 4: Click the + icon at the bottom and then click New Account

Step 5: Sign in with your Gmail account details

Step 6: Click on Inbox Folder and choose NEW Folder. Enter a folder name like Outlook.

Step 7: Now drag and drop your Outlook e-mail folders, contacts, etc. into the "New Folder".

Step 8: Wait for Outlook to sync the email items with the Gmail server.
Phase 3:
After completing the 2 phase above, this will be a final phase in export OLM to PST Outlook.
Step 1: Open your Windows Outlook application
Step 2: Go to File> Add Account to add the same Gmail account

Step 3: Drag the Outlook folder from your Gmail profile to your Outlook account
Automated Method to Import OLM File to Windows Outlook
The user can see that the manual method described above is complex and takes too much time to migrate OLM to PST. Configuring the Mac Outlook account through Gmail in Windows Outlook is too hectic. The most flexible and realistic tool expert recommending DataHelp OLM to PST Converter that will convert OLM to PST format within minutes by following the steps below.
Steps of Automated Solution to Export OLM to PST Outlook
1. Download and install the OLM to PST software on your system.
2. Click Select files and select the desired file to be converted from OLM to PST (Note – Here you can use drag & drop functions to store OLM in the software panel)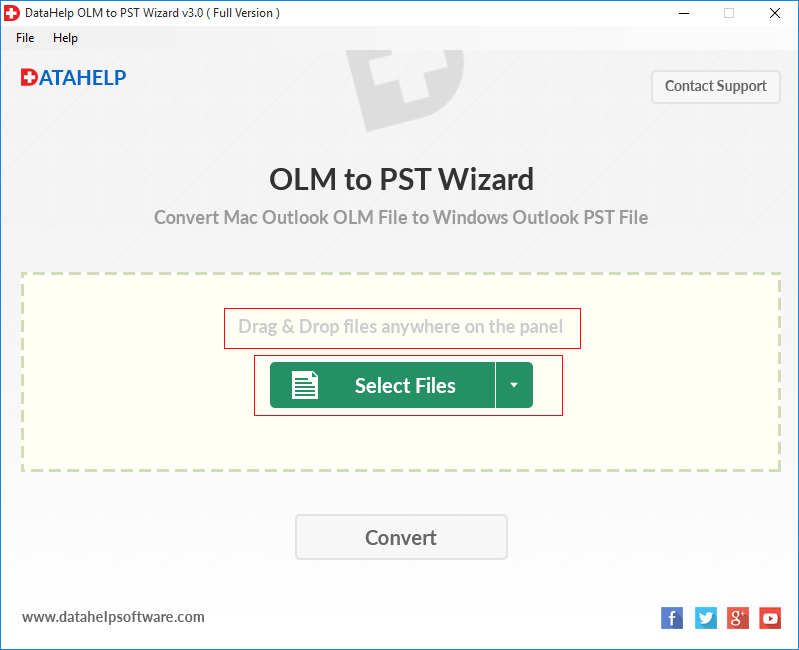 3. Click the Convert button and select the destination where you want to save the converted PST file in the system

4. Click OK. You're all / Selected OLM files will be converted to PST file format successfully.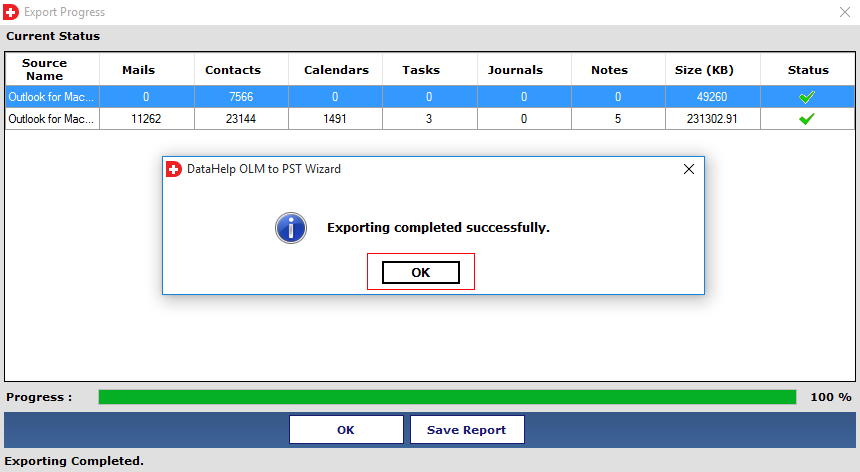 Note- Once the conversion of OLM to PST format is completed, the user can easily import the converted PST files to the Outlook window account using the built-in import / export utility.
Main Features of The Outlook Conversion Tool
1. Convert all OLM emails with attachments to PST file format without data loss
2. Convert large OLM email files to PST with confidence
3. Create a single PST file from the multiple OLM file according to your needs
4. Supports all OLM files of MAC Outlook version
5. Provide free demo features that you can use to try the tool before you buy it.
Verdict
We know that users often face problems when they need to Import OLM File to Windows Outlook. It is important to take an approach that is easy for users to take. And ensures data integrity without data loss. Taking all factors in mind, we recommend best OLM to PST tool.
If your data files are in an error-free format and you have an Outlook user interface for Outlook Mac, Gmail, and Windows Outlook, you can choose a manual solution or make the right decision for the guaranteed solution.